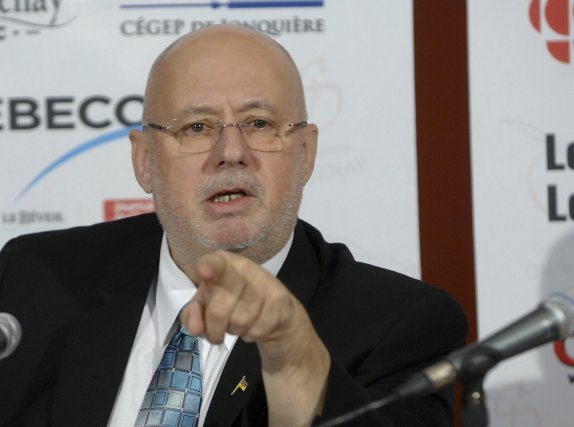 For the third time since 2011,
a member of the NDP's caucus has left their party over reasons of apparent disagreement with their "principles."
And once again, its hard to imagine how these people decided to join up with the NDP in the first place if they disagree so much.
In the case of Lise St-Denis and Bruce Hyer, I can almost understand it. St-Denis left her party fairly early on and said she didn't feel the party was the right fit. In Hyer's case, he left because he didn't like Mulcair's leadership and didn't get a critic's spot - er, sorry, he
says
he left because of being whipped too much.
In Jonquière-Alma MP Claude Patry's case, its a bit more confusing. Patry, at one point his party's critic for Employment Insurance, a role which he lost after 2012 it seems, has left to join the tiny Bloc Québécois because of the NDP's position on the Clarity Act bill being presented by one of the Bloc MPs (I think André Bellavance), that is to say, they're voting against it.
But, wait a second. The NDP aren't voting against it because they
disagree
, they're voting against it because it came from the Bloc. The NDP's position is that they want to open the books up and change it back to a simple majority of Quebeckers is required to separate. Craig Scott is even introducing his own bill in order to do almost exactly what the Bloc bill does, except its from an NDP MP.
So, what gives? Why would Patry join the Bloc over an issue that, when you get right down to it, the NDP agree on? It doesn't really make sense, if that is the only reason. Patry's put himself into a pretty crappy position by joining the not-even-recognized Bloc, unless like St-Denis he doesn't expect to be running in 2015.
Yet, why wouldn't he? Patry's relatively young and the Saguenay region where his riding sits is actually pretty friendly towards the Bloc. That he is one of five MPs and his riding will not be obliterated by the redistribution means the Bloc will put resources into keeping him there. Even so, he would have a much better chance holding on to Jonquière with the NDP.
I don't know, this is all very weird, and to me, it doesn't make much sense given the reasons he's said. He has clearly wanted to probably jump to the Bloc for awhile now, and this vote is his chance to do see - even if it is for the flimsiest of excuses.
That corner where the Liberals, Greens, Bloc, and Independents sit keeps getting bigger each year. What does this say about the NDP? It isn't as if St-Denis, Hyer, and Patry were vital components of the Official Opposition, but the fact that the party can't keep its backbenchers from defecting isn't a good sign. Coupled with a set of piss-poor by-election results for the party in 2012, and a leader whose media time is almost pale in comparison to the frontrunner for the leadership of the third party (hell, I've seen Garneau more often in the news), I'm having a hard time seeing a happy ending for the "Official Opposition."